Events
Live Demo Sessions during Electronica 2020
From 6th to 12th of November 2020
During Electronica Virtual 2020, we were pleased to introduce our latest product announcements and innovations and in particular Interstellar DAC (EV12DD700). Our engineering team worked very hard on developing product demonstrations which we broadcasted Live using a web TV studio on site in Grenoble.
The goal of the live sessions were to introduce the new generation of microwave data converters offering the largest bandwidth capability to sample signals at any band up to Ka. If you couldn't make it to the event or wish to learn more, please check out the links below!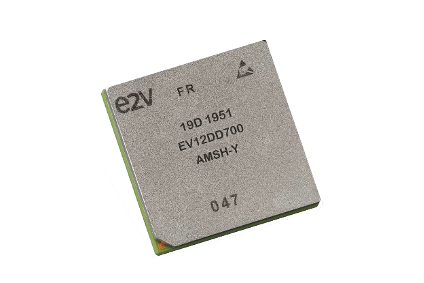 DEMONSTRATING THE MOST ADVANCED MICROWAVE CAPABLE DAC GENERATING SIGNAL WAVEFORMS IN MULTIPLE FREQUENCY BANDS UP TO KA was presented the first live demonstration of the most advanced Digital-to-Analog Converter (DAC) from Teledyne e2v, EV12DD700. The latest 12-bit dual channel 12 GSps DAC is capable of generating signal waveforms over multiple frequency bands up to Ka-band. The DAC was shown in its evaluation environment with the description of all its functionalities. Performance was showcased on spectrum plots up from 26.5GHz exhibiting the widest instantaneous bandwidth up to 6 GHz.
The related press release could be found on the Teledyne e2v website. The following videos demonstrate the performance of EV12DD700 DAC.
Demo of DAC
Full session (introductions, demo and Q&As)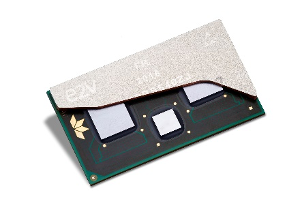 During the event, an innovative component using Teledyne e2v's EV12AQ600 ADCs was also presented. This component, the EV12PS640 is a Proof-of-Concept, built to validate and anticipate our future developments to execute our strategy towards the direct microwave digitization.
This is a Multi-Chip-Module device composed of an organic substrate embedding 3 dies:
Two EV12AQ600 dies (ADC developed within the INTERSTELLAR H2020 project)
One dedicated microwave sampler die (a new development)
The device takes benefit of co-design techniques as well as in-house MCM assembly capabilities to enable direct microwave sampling over a very wide input bandwidth of 30 GHz. This is the first step before the design of the next generation of ultra-wideband A to D Converter, to extend the performance of future broadband satellite communications systems, Test systems, Spectrum awareness systems to name few applications.
Teledyne e2v Annual Press Conference
16. April 2020
Teledyne e2v hosted a Press Conference on the 16th of April with journalists from multiple electronics publications within Europe. This year due to the COVID-19 restrictions the event was held online. Four topics were discussed during this session and the last two one directly concern Interstellar program
POWER REDUCTION FOR SYSTEMS EMBEDDING TELEDYNE e2v COMPUTE INTENSIVE MICROPROCESSORS. FROM HEAVY COMPUTING TO ARTIFICIAL INTELLIGENCE: SPACE JOURNEY WITH TELEDYNE e2v. IN 2020, TELEDYNE e2v WILL RELEASE NEW PRODUCT ANNOUNCEMENTS TO ACCELERATE RF SOFTWARIZATION IN ITS CUSTOMER'S SYSTEMS. Teledyne e2v design the most advanced multi-band data conversion technology for direct conversion in all bands up to Ka, for Rx and Tx signal chains, centralized in SiPs (System in Package) or distributed over digital optical harnesses on fiber. Last year we emphasized on our focus and intent to create data conversion technology to operate directly at Ka-Band. This year is the year where we make it work and demonstrate this innovation and the benefits that it brings. Last year we described the emerging market trend of GSPS data conversion technology, with part of the market migrating to GSPS data converters integrated with the FPGA and part of the market which will implement GSPS data converters remotely from the FPGA, inside or near the antenna with digital antenna harness on fiber. This year we will show the first prototypes, samples and proof of concept demonstrators which materialize Teledyne e2v for both of those new forms of implementation of data conversion technology, while taking the frequency capability to an unprecedented level up to Ka-band. For more information, please see following links: Teledyne e2v boosts radio softwarization efforts through its latest microwave data converter developments! EV12DD700, This new DAC provides a significant leap forward for RF Softwarization
TELEDYNE e2v, A LEADING EUROPEAN COMPETENCE CENTER FOR SYSTEM IN PACKAGE. Get insights about our global assembly manufacturing services offer with our one-stop-shop approach. Discover how we manage the entire supply chain from substrate design to the final product, by way of assembly, test and qualification. Find out how we intend to improve the semiconductors assembly integration using our System-in-Package services proposal to make systems smaller, with improved performances, and with a reduced time to market thanks to a single supplier. ADC and DAC developed in the frame of Interstellar are intended to be used in future SIPs.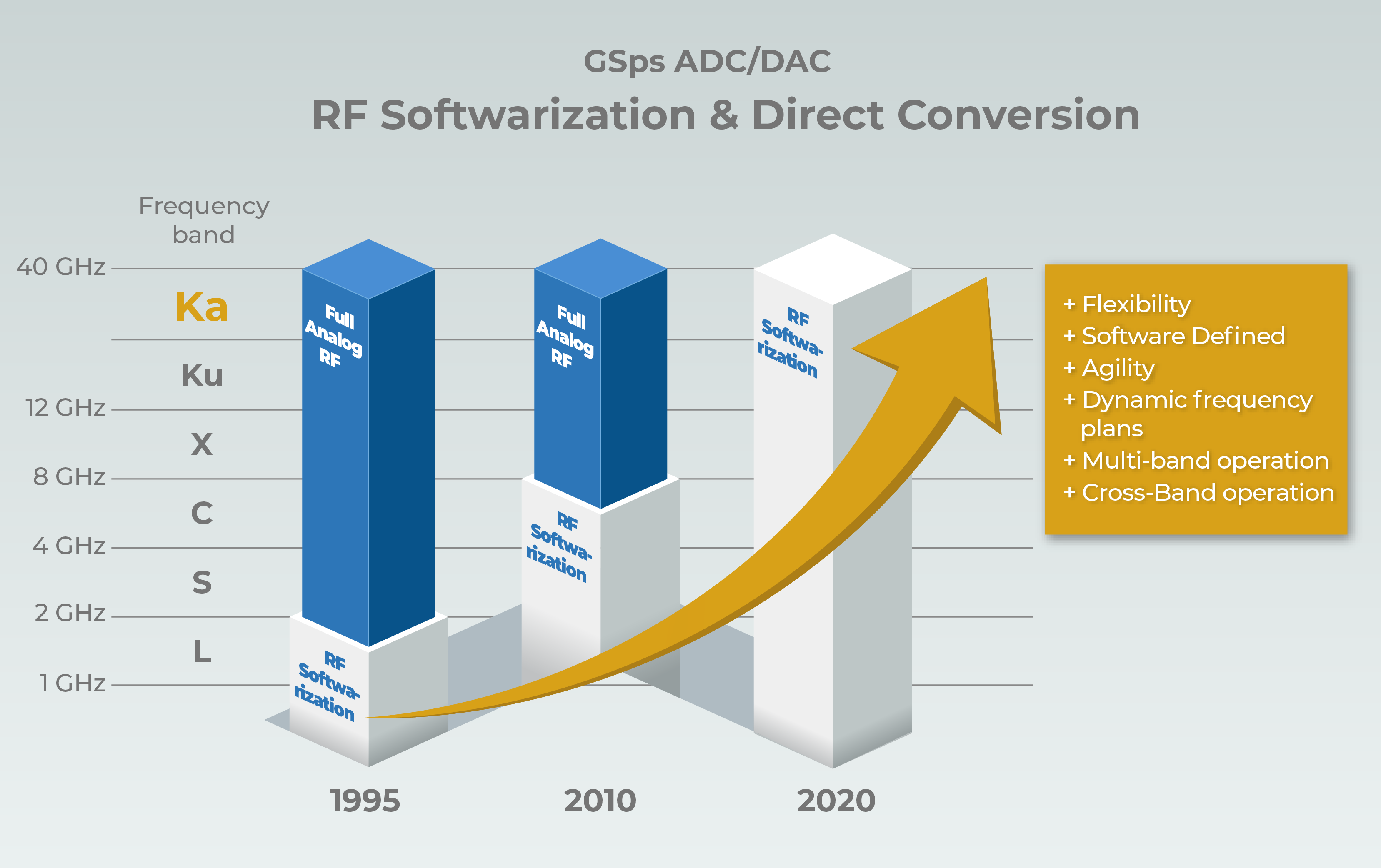 RADECS event
16. - 20. September 2019
Teledyne e2v's team was at RADECS in Montpellier, France in September 2019. Our radiation experts were on booth 31 to discuss about our radiation tested space level semiconductors components. Moreover, visitors were able to discover one of our most advanced Analog-to-Digital Converters, the quad-core 12-bit EV12AQ600 with multi-channel capabilities packed into a 16×16 mm package developed in the frame of Interstellar.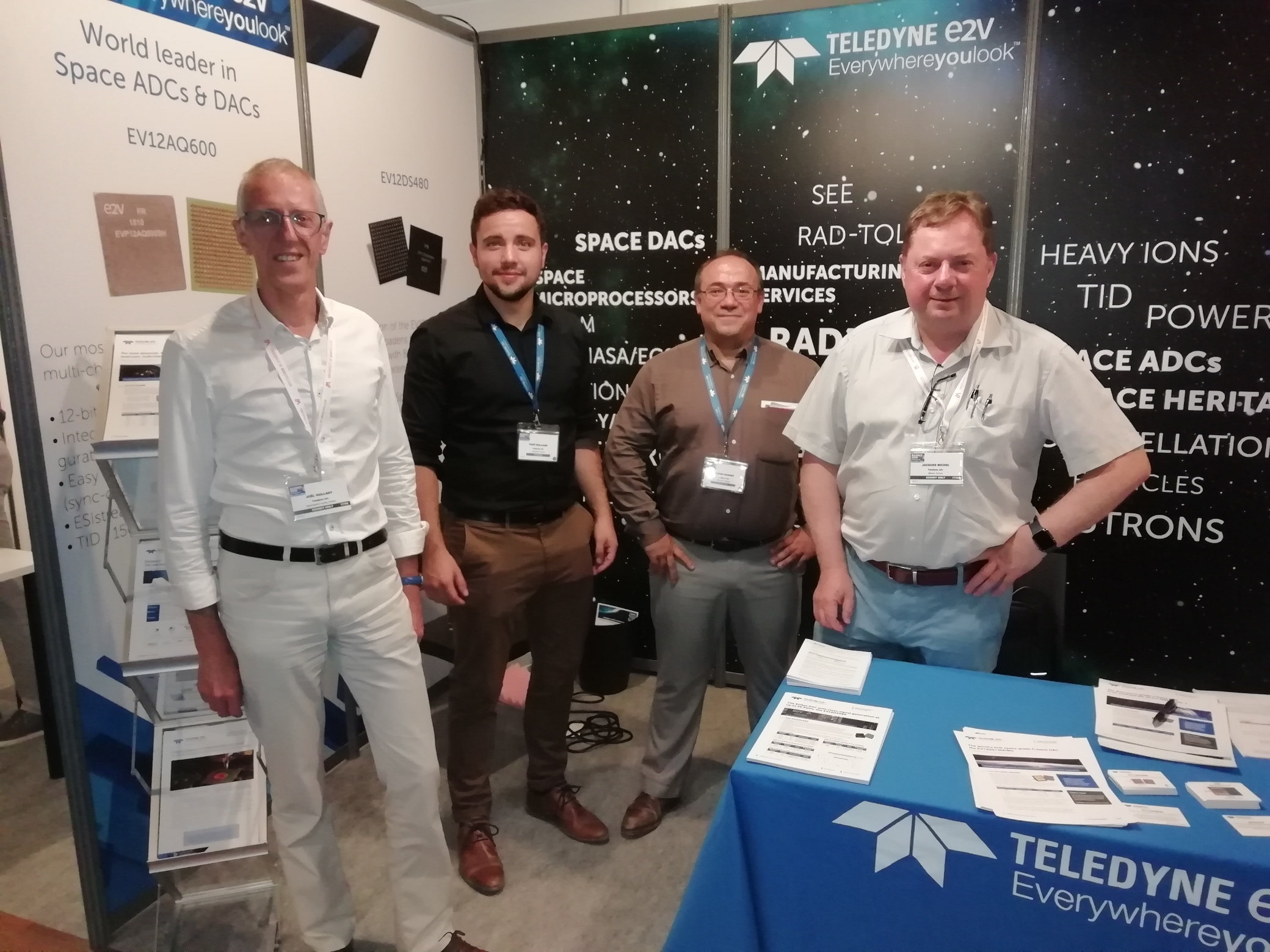 Teledyne e2v Press Conference
09. - 10. April 2019
Teledyne e2v hosted a Press Conference in Grenoble 9-10 April, with journalists from multiple electronics publications within Europe. 3 topics were covered during this event:
Expanding Te2v data converter offering for high frequency up to Ka-band: This presentation gave the opportunity to present ADC & DAC developed in the frame of Interstellar program. A focus was done about the ADC Demonstration Board developed by Fraunhofer, which demonstrates the synchronization features implemented within the ADC.
Space & Aerospace high reliability microprocessors solutions to higher standard Presentation
Teledyne e2v, a leading European Competence Center for System in Package Presentation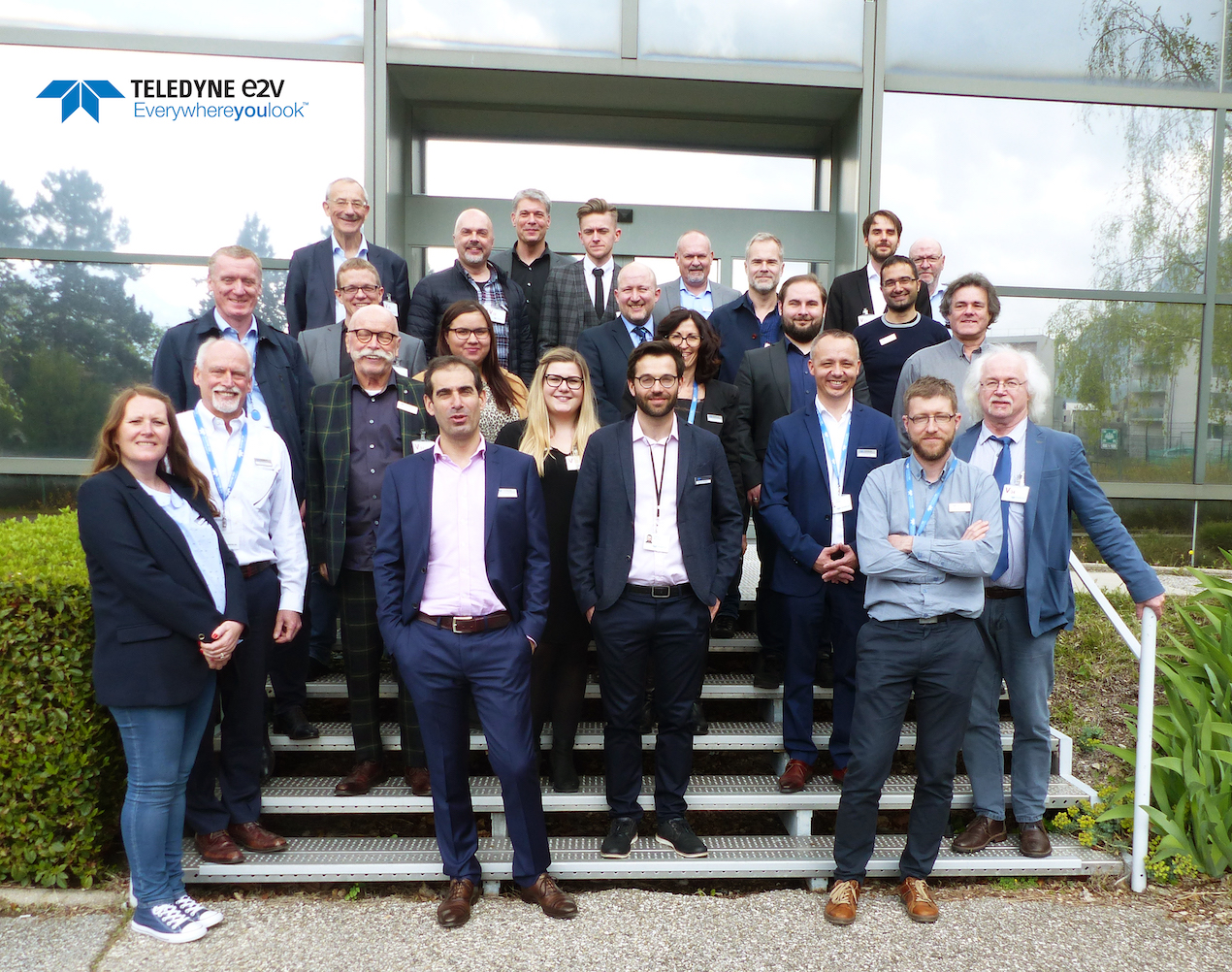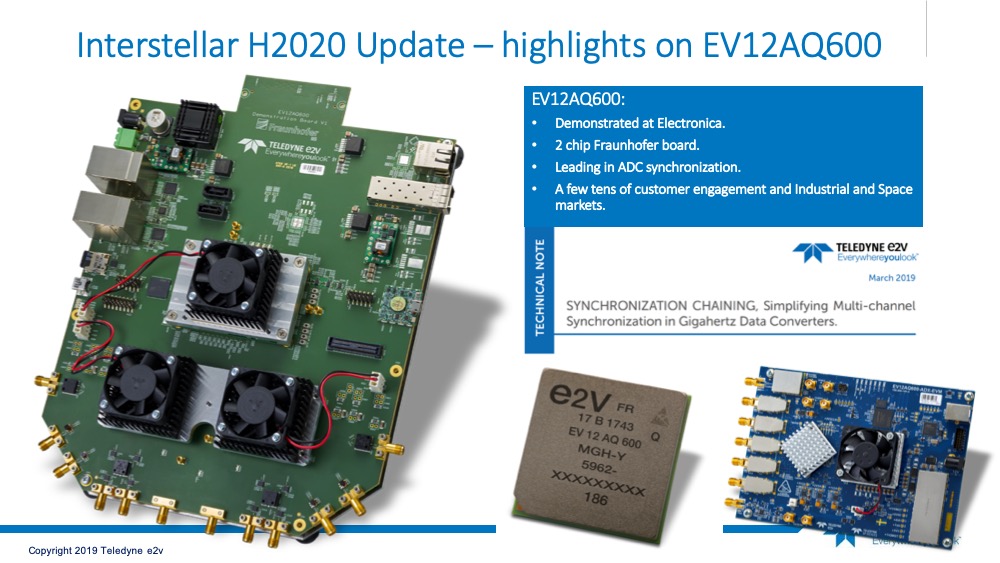 electronica 2018, Munich, Germany
13. - 16. November 2018
The team of Teledyne e2v is presenting a live demonstration of the EV12AQ600 ADC developed in the frame of Interstellar. The ADC demonstration board with 2 ADCs is shown. The trade fair is already a success for the project with a high number of pre-booked meetings with customers.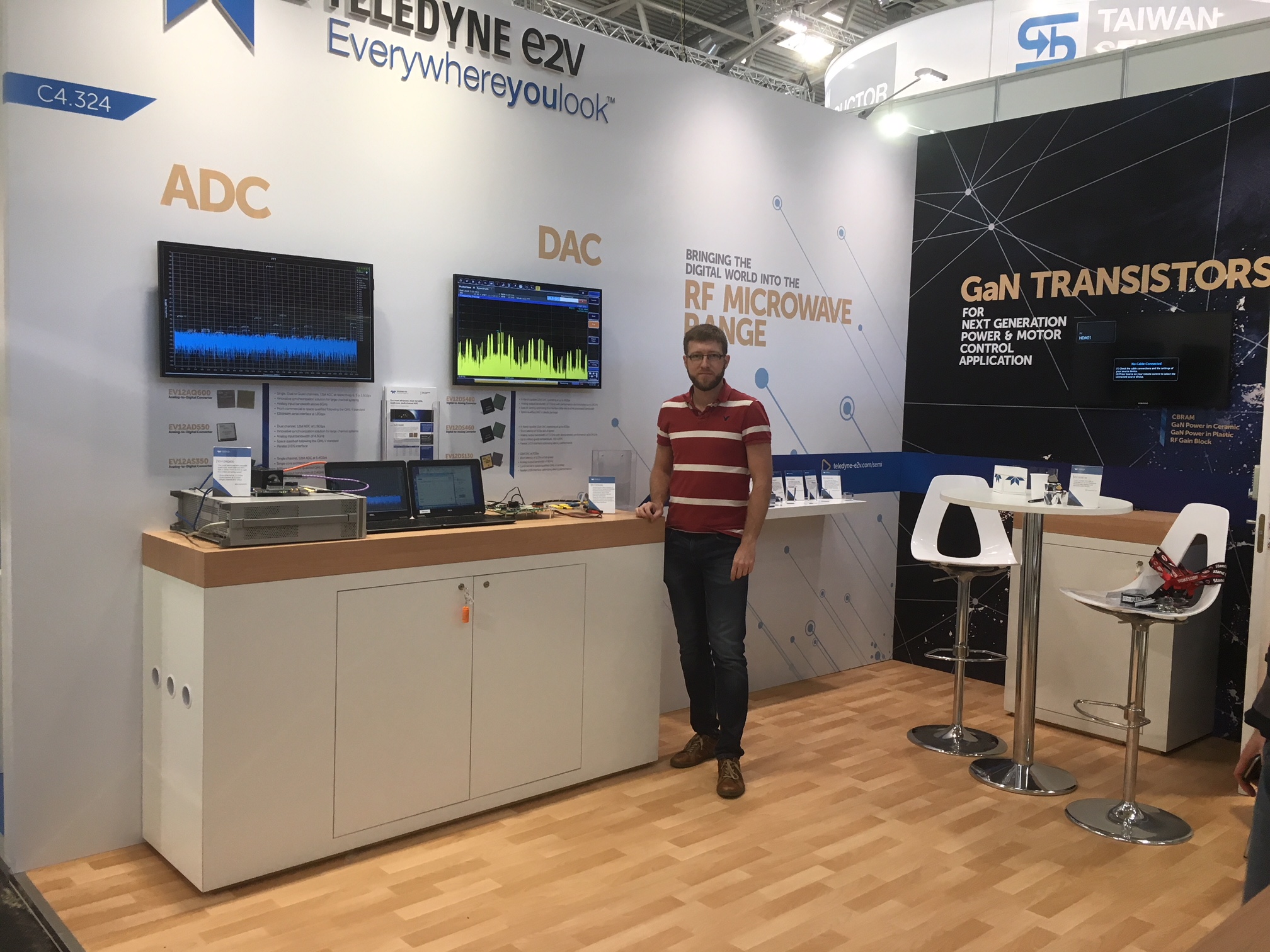 AMICSA
17. - 20. June 2018
AMICSA will be the first public demonstration of the EV12AQ600, the first of two data converters to be created under the Interstellar project. Alongside the demonstration, Teledyne e2v will be sending a videography team to create a video of this landmark event during the exhibition, which will be distributed via Teledyne e2v's social media channels following the event.
https://indico.esa.int/indico/event/222/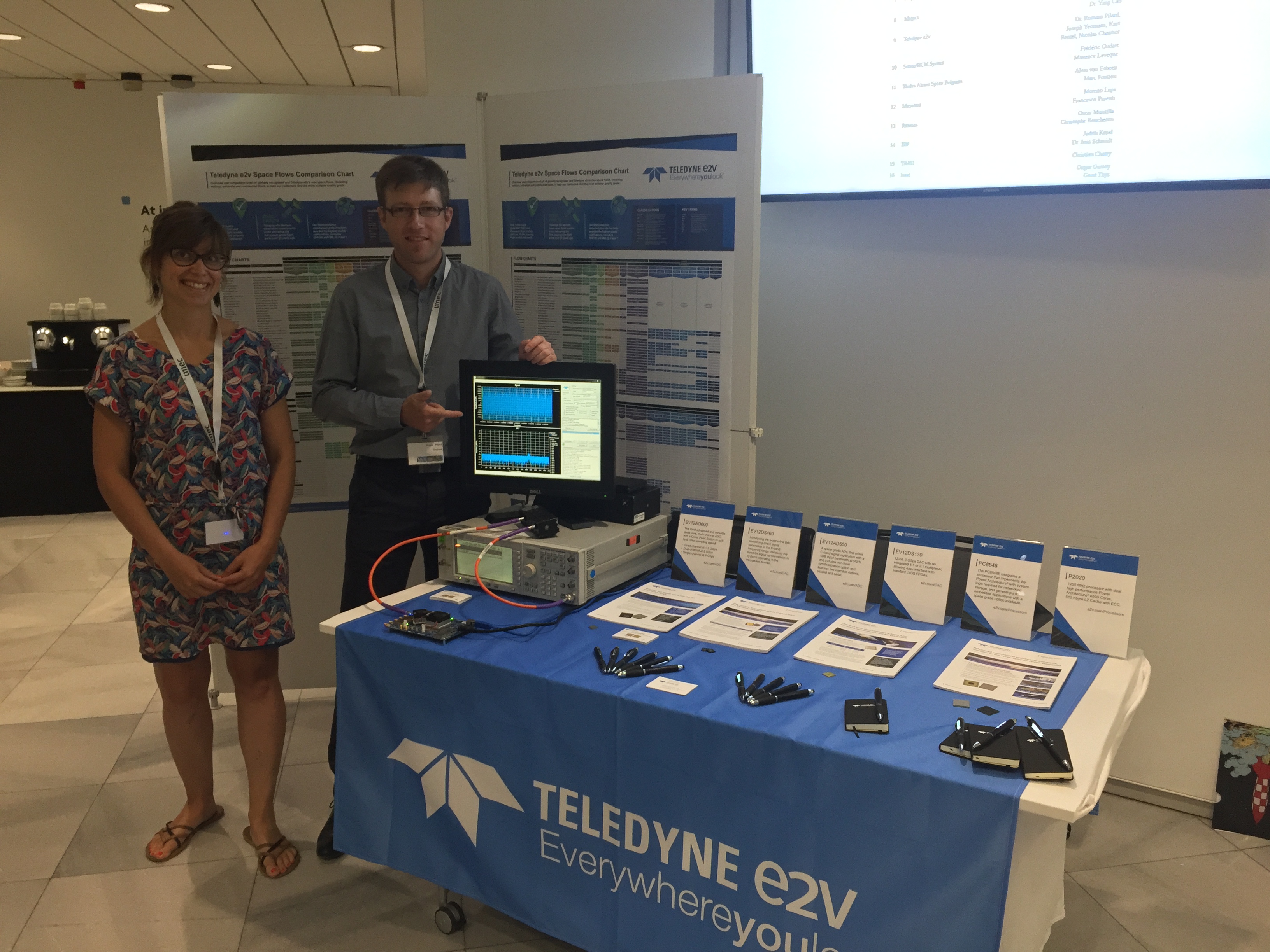 Teledyne e2v Semiconductors Press Trip
6. June 2018
Teledyne e2v hosted its first Press Trip in Grenoble 6 June, with confirmed journalists from multiple publications within Europe. The main topic of the Press Trip was the Interstellar project, with a tour of the manufacturing capabilities behind the EV12AQ600 developed under the Interstellar project.
EV12AQ600 press release
25. April 2018
Teledyne e2v announced the EV12AQ600 on 25 April, it is the first of two data converters to be created under the Interstellar project. The press release was distributed globally and coverage highlights include Electronics Weekly, EE News Europe and Techristic.
https://www.e2v.com/news/teledyne-e2v-announces-most-advanced-and-versatile-quad-channel-analog-to-digital-converter/